Domain Services Email - Scam

Nov 13, 2013 by: Moser, James
I got a couple of emails this morning with the title "DOMAIN SERVICES." The emails had the following content:
As a courtesy to domain name holders, we are sending you this notification for your business Domain name search engine registration. This letter is to inform you that it's time to send in your registration and save.

Failure to complete your Domain name search engine registration by the expiration date may result in cancellation of this offer making it difficult for your customers to locate you on the web.

Privatization allows the consumer a choice when registering. Search engine subscription includes domain name search engine submission. You are under no obligation to pay the amounts stated below unless you accept this offer. Do not discard, this notice is not an invoice it is a courtesy reminder to register your domain name search engine listing so your customers can locate you on the web.

Similar to the Domain Registry of America scam, the email is formatted to look like an invoice. By passing themselves off as an existing vendor, they hope that you will simply add your credit card information and fax it in with your signature on it.

Clearly, someone is trolling domain names that have been recently renewed or registered as fodder for this scam. Don't fall for it.

---
Questions regarding the Marketplace Fairness Act

Apr 23, 2013 by: Moser, James
The US Senate on Monday passed the Marketplace Fairness Act which seeks to empower states and territories to collect sales and use taxes on products purchased over the internet and shipped into their tax jurisdictions.
Leaving aside the politics, here are some key points:
Small Seller Exemption
Section 2, subsection C of the Senate bill exempts remote sellers with "...gross annual receipts in total remote sales in the United Stated in the preceding calendar year..." of less than $1 million. There has been some discussion that this number will be raised to $10 million, though the text bill does not reflect that.
Will I have to collect, file, and remit taxes in all 50 states, the District of Columbia and the territories?
Maybe. States are not obligated to collect sales taxes from remote sellers. Section 2 of the act states that "A State may exercise authority under this Act beginning 90 days after the State publishes notice.." of their intent to do so. Non-member states ( D.C. and the territories ) are forced to wait 6 months before they can begin to enforce the Act. Several states do not have sales taxes, and given that this is optional on the part of those that do, the number of states that require collection and remitting will change over time.
How can I deal with 9600+ separate tax rules?
That's going to be challenging for your E commerce provider but not for you, though will still have to write all of those checks. The states must do 3 things before they publish their intent:
They must "...provide a uniform sales and use tax base among the state and local taxing jurisdictions within the State.." That means that each will effectively have a homogeneous taxing algorithm.
Provide ( free of charge ) software to calculate tax liability for each transaction in real time this software must also be capable of filing sales tax returns.
Provide a mechanism for certifying software providers and keeping them informed of rate changes in a timely manner.
What if there are mistakes?
The Act protects sellers from liability incurred due to errors made by certified software providers. It also protects certified software providers from bad information given them by the remote sellers.
What is Cairn Applications doing about the Marketplace Fairness Act
Many of you will be aware that Cairn has been building a new proprietary E Commerce solution called myStore. The Marketplace Fairness Act has been in the works during most of the this development cycle and as such we have built in a tax calculation module. At present, the module is little more than a placeholder, given how little is known about this Act and it's viability.
This tax module will be activated by a user option on myStore and it looks like periodic ( monthly, yearly ) reviews of the trailing 12 months sales will be necessary in order to tease out our client's small seller exception status.
We have a number of questions regarding the implementation of the law and have been in contact with U.S. Senator Kelly Ayotte's office for Clarification. Mr. Thomas DeRosa at the Senator's Office is looking into our questions but was able to give the following:
While the Bill did pass the Senate on Monday, it has yet pass in the House of Representatives.
Speaker of the House John Boenher is adamantly apposed to the Bill as are a number of representatives.
Mr. DeRosa was clear that we are a long way from this bill becoming law.
Should the Marketplace Fairness Act become law, Cairn Applications will be seeking certification as a software provider in order to give our customers' customers the best possible e commerce experience with the least hassle over taxes.
Here is a copy of the Marketplace Fairness Act gleaned from marketplacefairnessact.org/bill-text/
---
Anonymous attacks GoDaddy

Sep 10, 2012 by: Moser, James
Here is what is known. GoDaddy, the largest Hosting and Domain Registrar in the world, came under attack this afternoon. The attack appears to have been perpetrated by the cyber terrorist group Anonymous. There is some information on the group's Twitter feed that suggests that the attack was the work of only one member of the organization. Not that it matters a great deal.
The attack targeted GoDaddy's DNS System which is responsible for translating domain names such as www.yourdomain.com to an IP address such as 111.222.333.444. This is a critical first step in any web inquiry.
This was a Distributed Denial Of Service ( DDOS ) attack. In simple terms, the attacker spreads a virus to thousands, perhaps millions, of unsuspecting computers. At some predetermined moment, or in response to some condition, all these computers "wake up" and start making simultaneous requests of a single resource, in this case the GoDaddy DNS System. The large volume of simultaneous requests from all corners of the globe simply overwhelms the system, thereby blocking ( denying ) legitimate traffic.

The motivation given for the attack was some vague claim about GoDaddy promoting web censorship. This is just noise. Likely this was done simply to show that it could be done. This is a common motive.
The attack lasted from around 3:00pm to nearly 6:00pm Eastern time on 9/10/2012, one day shy of the 11th anniversary of the 9/11 attacks.

Client Data was not affected by the attack.
It is important to note that that Cairn's clients are not hosted at GoDaddy, so no data was at risk during the attack. Cairn does, however, use GoDaddy to register domain names. Their DNS servers are critical to the operation of many of our client's sites. As a result, many Cairn clients were affected by the attack.
Should we have our own DNS Service?
Our knee jerk reaction is to wonder about the feasibility, expense, benefits and drawbacks of operating an independent DNS look up system. GoDaddy has been a reliable provider up to now and to their credit, they appear to have gotten the situation in hand fairly quickly. Should this happen again, however, our wondering will become more urgent.
Please feel free to call the office with any questions.

---
Cairn Applications will be at the Tri City Expo

Sep 3, 2012 by: Moser, James
We have secured our booth for the Tri City Expo at the Radisson Hotel Expo Center in Manchester, NH. The event will be on Thursday July 20th from 3:00 to 7:00pm.
If you have thinking about a new web site or web application for your business, then stop by booth 610-1. We would love to talk to you about your project!
---
Engage your vistors!

Nov 10, 2011 by: Moser, James
Search Engine Optimization is a 2 step process. First you need to attract the engines who will deliver the visitors. Once you have the visitor, you have roughly 28 seconds to engage them before they loose interest. Yeah, we live in a plugged in word and attention spans are short - there it is.
I just read an alarming statistic on ThinkWithGoogle.com:
"Consumers exposed to a YouTube homepage ad are 437% more likely to engage in a key brand activity on the same day than those unexposed."
You can be sure that this will be an upcoming addition to my web site. How about we do the same for you?
Check out our portfolio at http://www.cairnapps.com/portfolio/ and call us at (603) 966 6851 for a free consultation!

---
Tri-City Expo

Sep 24, 2011 by: Moser, James
Wow...Great Event. Thanks to all the folks that stopped by our booth at the Tri City Expo on Thursday. Thanks also to everyone who participated in our grocery survey! There will be a lot of follow up conversations next week.
---
Are we finally starting to question the app craze?

Sep 1, 2011 by: Moser, James
I have thought for a while now that the app thing was a fad. Think about it, you have to have an app for the newspaper, the bookstore, the radio station, a separate app for each of your social networking sites. Wait. Stop. An app for your social networking sites? Why do I need an app for a web site? I thought that was what the browser was for!
So why don't we just use browsers to run web applications instead of these platform dependent solutions that offer only limited functionality? In fact, the app crazy simply migrates the problem of platform dependent software from your desk top to your hand held device. Sales still can't communicate with marketing , creative or accounting.
I was having this conversation with another developer this week and I asked him this same set of questions. He is developing an app for the iPhone that will facilitate e commerce in support of his wife's hobby. I asked him: "Why not just build a web site that will work on every device in the room?" The answer was appalling.
Basically he told me that people are making an awful lot of money building limited applications that can be sold through the app store for 99 cents a pop. "Everyone else is doing it...now it's my turn." So sell a zillion copies and make a fortune. There are no customer support issues because no one expects it from a $1 application. If it doesn't work, who cares, it was only a dollar. Yikes.
This has long been a quandary for me as a web developer. The applications I build all run in the browser window, the operating system doesn't matter beyond running a browser ( which is free ) and providing an internet connection ( which is ubiquitous ).

Well, Reuters reported this week that the London Financial Times is pulling it's app out of the Apple App Store in favor of a web-based version of the same app! FT sites 2 major concerns. First and foremost was Apple's insistence that Apple retain control over FT's customer behavior data. This data, collected by the app, is critical for the demographic slicing and dicing that is the backbone of the marketing industry.

The second objection cited by the FT is Apples 30% cut in app sales. FT is runs the first profitable web based news outlet and there is some question of the value provided by Apple in return fpor the 30%. For my developer friend, this is a no-brainer. He does not have the resources to market his application as effectively as Apple can, but FT is not encumbered in that way.

FTs actions clearly validate the opinion that Apple's position as a content intermediary makes no sense and adds no value, but rather detracts from value.
Free your apps! Deliver your content directly to your users. Call Cairn Applications at (603) 966 6851 to find out how.

---
Open note to the US Senate and the House of Representatives

Jul 31, 2011 by: Moser, James
I am the President of Cairn Applications, LLC in Goffstown, NH.

I find business owners unwilling to invest in web sites and web applications (my primary business) because they are concerned that the US Senate and House are playing chicken with our economy simply to score political points for the 2012 election.

The small business community does not like uncertainty. The uncertainty that our leaders have created is stalling small business growth. Bottom-line: If my business can't make deals due to Congress's inability to create a stable financial climate, I can't grow my business and create jobs.

Get it done, or get out of the way.
James Moser
President
Cairn Applications LLC
603 966 6851
---
"The Filter Bubble"

May 19, 2011 by: Moser, James
Check out this great article on cnn.com by Doug Gross. This is exactly what I ave been preaching for a while now. Social media looks like it is there to serve you, but in reality it is a grand manipulation. Check out the article, I am ordering the book now.
---
Nashua Expo 2011 was great!

May 14, 2011 by: Moser, James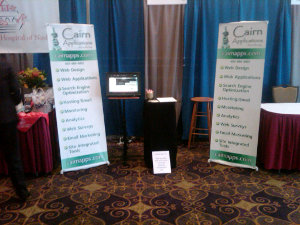 We had a great time at the Nashua Expo 2011! It was a pleasure to meet the folks at the Nashua Chamber of Commerce.
A lot of business owners came by to talk about web design and search engine optimization and the importance of building quality content that engauges the visitor.
If you are interested in seeing how Cairn Applications can design a successful web site for your business, then give us call today at 603 966 6851 or visit us online at www.cairnapps.com.

---
Nashua Expo 2011!

Apr 26, 2011 by: Moser, James
Cairn Applications will be exhibiting at Nashua Expo '11. The event will be held at the Radisson Hotel in Nashua on May 11th. The Expo starts immediately following Donald Trump's speech and runs from 2 - 5pm!
We are really looking forward to meeting the Nashua Chamber of Commerce and the Nashua Business community.
Stop by our table and say hello!

---
Epsilon Email Breach

Apr 4, 2011 by: Moser, James
Apparently the email marketing firm Epsilon has inadvertantly exposed millions of email accounts via an unauthorized breach of thier systems. To be very clear Cairn Applications LLC does not use Epsilon for email marketing. We use competitor ConstantContact which was not effected.
This is little comfort, however, given that the Epsilon client list includes a number of major retailers, service providers and banks.
At this time, the Epsilon web site is flooded. The press release states:
"IRVING, TEXAS – April 1, 2011 - On March 30th, an incident was detected where a subset of Epsilon clients' customer data were exposed by an unauthorized entry into Epsilon's email system. The information that was obtained was limited to email addresses and/or customer names only. A rigorous assessment determined that no other personal identifiable information associated with those names was at risk. A full investigation is currently underway."
---