Search Engine Optimization (SEO)
Search Engine Placement
Search engines like Google, Yahoo and Bing deliver roughly 65% of their traffic from the first three organic search results. Clearly your web site needs to be on page one of the search engine results, and the closer to the top the better.
So how do you get there? The answer is that you make your site attractive to the search engines. SEO is all about making it easy for the search engines to understand your web site.
So what do the search engines want from your web site?
Credibility. Simply put, the search engines are in the business of providing relevant answers to specific questions.
If the search engine provides a credible and relevant result to your query, then you are more likely to return with your next query. This gives them the opportunity to serve up their primary bread and butter, advertising.
So, the more relevant your web page is to a given query, the more likely the search engines are to serve up links to your page. It all comes back to your content. If you deliver unique, authoritative, and informative content, then search engines will serve up your web site in their result sets.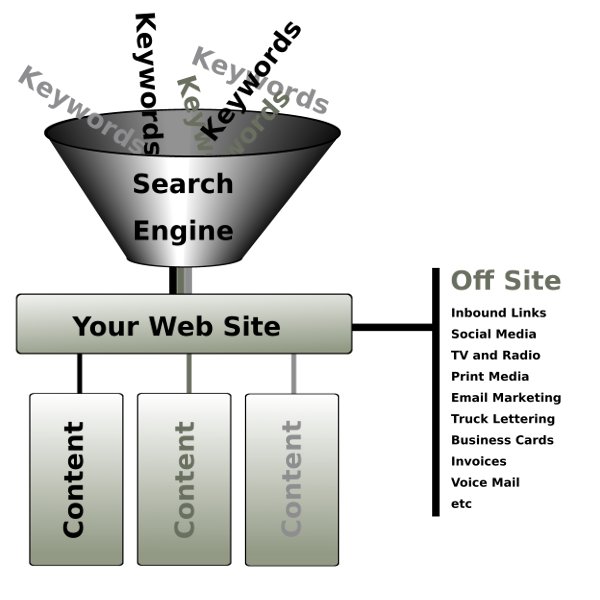 Search Engine Optimization Process
Search engine optimization activities can be broken into three distinct categories: keyword research, on-site activities, and off-site activities.
Keyword Research
There is an old adage about the importance of knowing your customer. That is extremely true when it comes to keyword research. Imagine a prospective customer who is in need of your products or services, but is not aware of your company. Imagine that this prospect is an extremely good match for you – an ideal prospect.
Our prospect opens Google and searches for some keyword phrase. The brass ring of keyword research is to understand exactly your prospect would type.
On-site SEO Activities
Once we identify an appropriate set of keyword phrases, we optimize a web page around that phrase. "Optimize" is a fairly vague term for the uninitiated, so let's flesh it out a little bit. The search engine needs to decide what a web page is about, based on the raw HTML that it sees. Here is an image of raw HTML. As you see, it is an ugly jumbled mess of content and mark up. The objective of on-site SEO is to help the search engine algorithm understand what the page is about based on that raw HTML.
We do this by using the keyword phrase strategically on your web site. The usage must be appropriate and read naturally.
Off-site SEO Activities
Your web site does not exist in a vacuum. Rather, it should be one part of your marketing strategy. It happens that that a web page is an extremely cost efficient media for communicating your message. In almost all other advertising media, you pay by the word, by the second, by the column inch, etc. Not so with your web site. Here, you can elaborate your message with images, videos, diagrams, documents, etc, with no additional cost.
So, off-site SEO is a group of activities that are designed to reinforce and drive traffic to your web site. This should be absolutely consistent with your keyword research and your on site optimization strategies.
Examples of off-site SEO activities include building relevant inbound links, using social media effectively, and driving traffic with all media and collateral that reaches your customers or prospects.
The result
If your content is authoritative and relevant the search engines will return your site in their result sets. This, however, is just the beginning of the process. Once you get the visitors, you have fewer than 30 seconds to engage them with your web site. At this point it all about web design.