Web Design
The graphical design of your web site is critical to its success. A pleasing graphical design that is appropriate to your business will convey a level of professionalism and encourage your visitors to click further. But there is more to good web design than just a pleasing appearance. In the end, successful web design must also consider the navigation and organization of your web site.

Navigation
Clear and simple navigation is critical to the usability of your web site's design. The user is unlikely to spend much effort attempting to understand a complicated or unpredictable navigation system, given the number of competing web sites. Your web site's design must make the resources presented easily findable and available.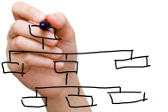 Organization
Your web site exists as a set of files and directories. Search engines such as Google, or Yahoo or Bing, derive many clues from the organizational layout of your web site. Good web design organizes your content into directories and files that are named to send the appropriate signals back to the search engines.
Browse our web design portfolio.