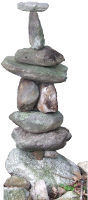 Web Design - Web Applications
Cairn Applications is a New Hampshire based software firm specializing in web design and custom web applications. We help our clients take full advantage of their web assets by providing expertise in scalable software development, ecommerce, web design and search engine optimization.
Web Sites
Your web site showcases your business to your customers, the community, and the world. As the most cost-effective piece of your marketing plan, it is critical that your web site delivers your message effectively, dynamically, and consistently. A high quality web design built by a professional web developer makes all the difference.
More information about professional web sites.
Web Applications
The software delivery model is changing. No longer are we tied to software running on a specific platform in a specific location. A well designed web application can deliver desktop-like performance anywhere in the word on any device with little or no configuration or maintenance required. Further, custom cloud solutions can be delivered affordably to organizations of all sizes.
More information about web applications.
Projects
LAFlipped
Acculex
Ironheart Jeremy Events
SmartBallTM
Cafe Indigo
Candia Road Antiques
Good Health is a HabitTM
HR Components
The Point
Action Authorized Parts, LLC
We work with clients in all industries. Check out our web design portfolio, and request a quote. Then join the growing list of companies that hire Cairn Applications to help them reach their web objectives.