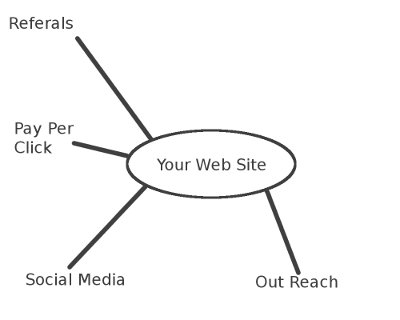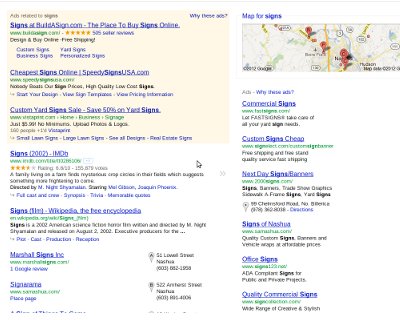 Pay Per Click
Bottom image to the right shows a web search with paid advertising in the off color section on the top and down the right coloumn. The Search Engines track visitor behavior and charge the advertisers a fee for each visitor that clicks on those ads. These tend to operate as an auction and fee can range from trivial to extreme. There is now question that this approach will drive traffic to your site.
These ads are also placed on sites all over the web. Your favorite blog, popular ecommerce sites, all the major search engines, news sites mobile app, etc.
Upside
Drives traffic to your site
If done well, these ads will drive people who are looking for your products and services.
Downside
You pay for every click
Anybody can click. Think students tring to learn about your business, competitors looking to steal your ideas, people randomly clicking their way through the internet
This form of driving traffic results in a very high bounce rate if your keyword overlaps an unrelated context.
Google is, of course the number one in the business and you can get started here. Another provider is XFinity ( Comcast ). AOL does a huge trade in on line advertizing. Many individual web sites offer advertising opportunities, Facebook among them.